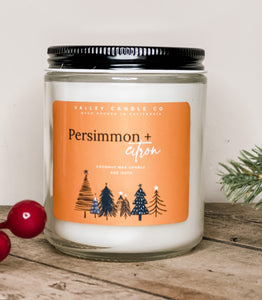 In this scent, citron, orange peel, tangerine and peach compliment the persimmon's unique citrus scent! The citrus notes are softened out by a base of clove and bamboo. 
Top: Orange Peel, Citron, Eucalyptus
Middle: Peach, Persimmon, Tangerine, Red Currant
Base: Clove, Bamboo
net wt. 8 oz (227g) 

container height with the lid approx. 3.5 inch tall.                                            
approx 3 inch diameter
Burn Time: 45-60 hours
Fragrance: Phthalate free
Wax: 100% coconut wax
Wick: Lead-free cotton
-Free of parabens, toxins, pesticides, carcinogens, artificial dyes or colorants

Planning a wedding or special event? Contact me for more information on personalized orders. Looking for a custom blend? Send me a message!