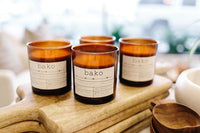 Shop Bako Candles!
The famous BAKO candle is now available right here! Choose from a 4 oz gold tin or the 10 oz amber tumbler. The perfect ode to Bakersfield Agriculture!
Shop now
Looking for custom favors?

Email support@valleycandleco.com or send a DM on Instagram @valleycandleco
Multiple size and color options available
For every occasion and celebration! Birthday parties. showers, corporate gifts and marketing
Looking for custom favors?
Email support@valleycandleco.com or send a DM on Instagram @valleycandleco
Send a DM
Multiple size and color options available
For every occasion and celebration! Birthday parties. showers, corporate gifts and marketing