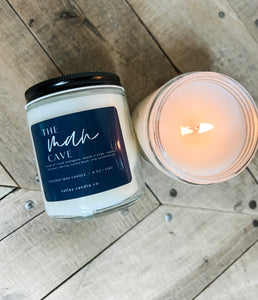 Everything you would hope a man cave would smell like. This fragrance is manly yet earthly and clean. If you like the scent of really good men's fragrances, you have to give this one a try!
Top: Mahogany, blood orange, red pepper                                                          Middle: Clary Sage Absolute, Cognac                                                                     Base: Bourbon Vanilla, Golden Amber, Tonka Bean, Sandalwood
net wt. 8 oz (227g) 

container height with the lid approx. 3.5 inch tall.                                                  approx 3 inch diameter
Burn Time: 45-60 hours
Fragrance: Phthalate free
Wax: 100% coconut wax
Wick: Lead-free cotton
-Free of parabens, toxins, pesticides, carcinogens, artificial dyes or colorants

Planning a wedding or special event? Contact me for more information on personalized orders. Looking for a custom blend? Send me a message!