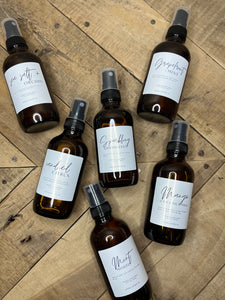 Use everywhere you want to freshen up! Every room, bathrooms, cars, linens, pillows, yoga mats, gym shoes, pet bedding, virtually anywhere!
Directions for use: Shake well! Mist lightly. Safe on virtually all fabrics but test on a small area for more delicate fabrics (silk, etc.)
CAUTION: Use only as intended. For external use only. Keep out of reach of children and pets. Avoid eye contact.
Ingredients: Organic + wildcrafted witch hazel, organic gluten-free + non-gmo grain alcohol, Premium Fragrance oil