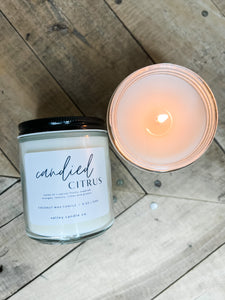 You know everyone's favorite citrusy candle in a fancy vessel? This is an Anthropology Volcano dupe! This scent is SPOT ON! Smells just like it with tropical fruit, sugared oranges, lemons and limes. Beachy and fruity all at once! 

net wt. 8 oz (227g) 

container height with the lid approx. 3.5 inch tall.                                                 approx 3 inch diameter
Burn Time: 45-60 hours
Fragrance: Phthalate free
Wax: 100% coconut wax
Wick: Lead-free cotton
-Free of parabens, toxins, pesticides, carcinogens, artificial dyes or colorants

Planning a wedding or special event? Contact me for more information on personalized orders. Looking for a custom blend? Send me a message!